Following these 12 SEO Best Practices for blogs is the Best Way to Optimise Your Websites SEO and Start Ranking in Google. Click here to find out how.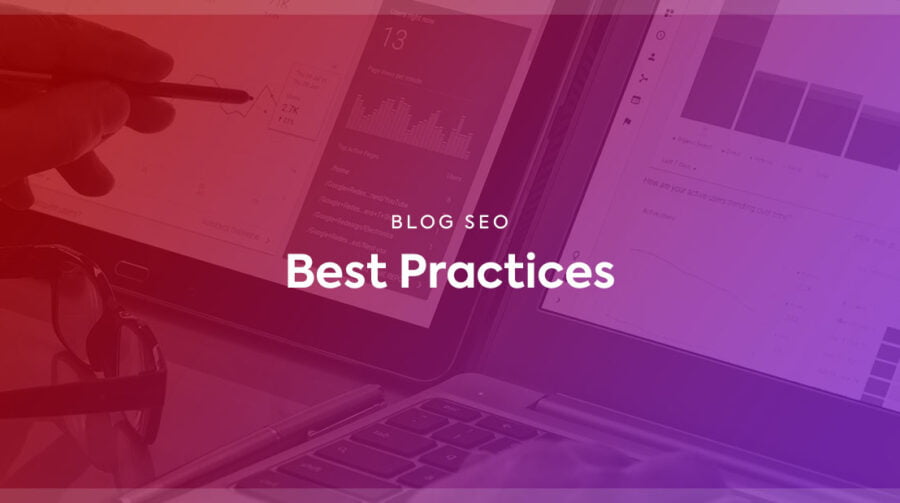 If you have ever written a blog post before, then you know that the write and prey method rarely works when it comes to SEO for blogs, ranking your blog in search engines and generating organic traffic to your website.
Most of the time, it ends up with your great content getting lost in the internet ether, never to be found again.
According to Hubspots research, more than 75% of searchers never go past the first page of results, so it's important to make sure your content and website are correctly optimised for search using these SEO best practices for bloggers.
13 SEO Best Practices for Blogs Overview
So, with the dark abyss of failed SEO content in mind, what can you do to rank in Google? How can you improve your blog's traffic and ensure that your websites are properly optimised for search engines?
Let's find out.
13 SEO Optimisation for Blogs to Rank in Google
Thankfully, all is not lost, and there are various blog SEO optimisation tips that you can use to boost your SERP rankings and generate more traffic to your website in no time at all.
1. Security First, Install an SSL Certificate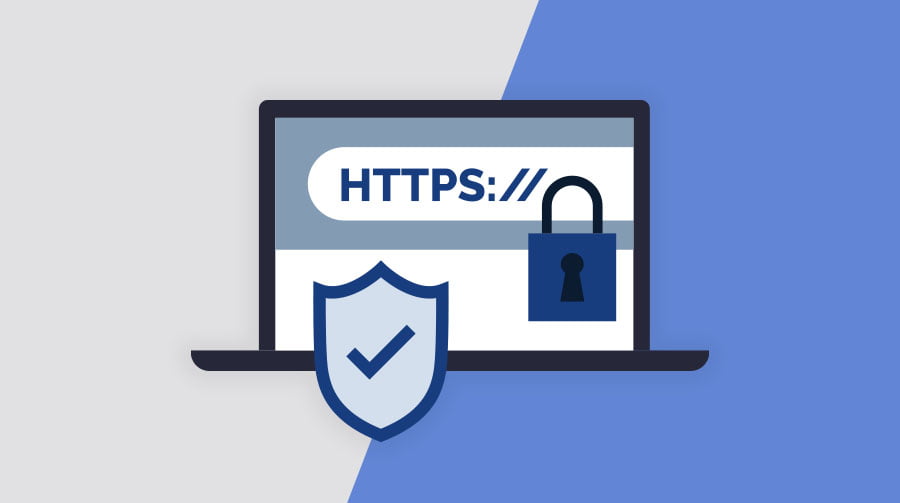 SSL or Secure Sockets Layer is a protocol developed to send encrypted data from client to server without anyone snooping in the middle to interpret the sent data. SSL Certificates are required in order to make use of this HTTP encrypted protocol.
Google has confirmed that SSL encryption is a weak ranking signal since 2014, meaning, if your website is not SSL secured, then you are likely receiving a small hit on your rankings.
If you manage your own server, then you can use Lets Encrypt to receive an SSL certificate and automatically keep it up to date; however, if you are with a managed hosting provider such as GoDaddy, Bluehost or Tsohost then, the bad news is that you are likely going to need to pull your wallet out to get SSL enabled on your website.
2. Optimise Mobile UX First, Desktop Last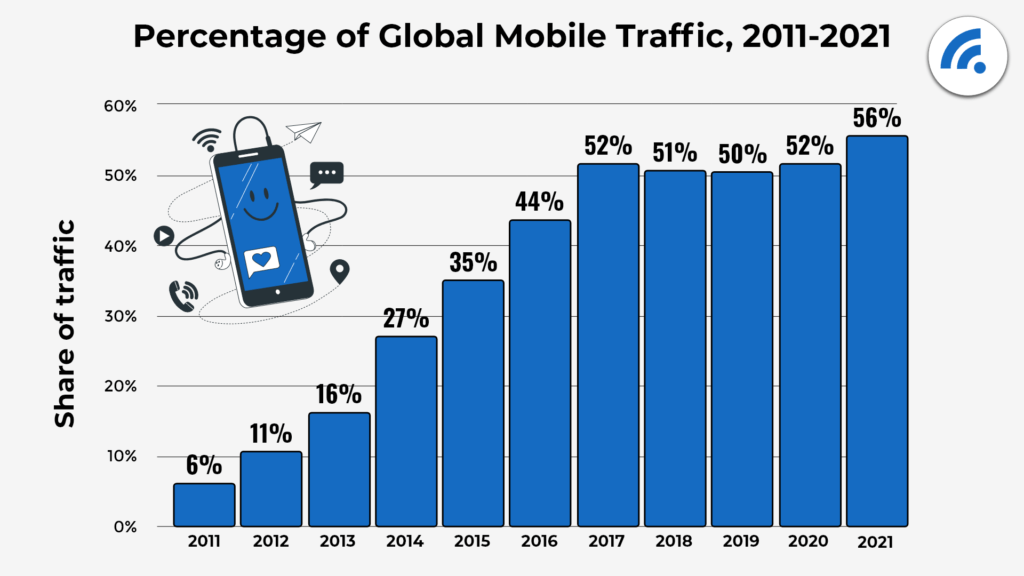 If you didn't know already, Google has been ranking websites mobile-first for a while now. In other words, Google is looking at the user experience your readers receive on mobile devices to determine how and where to rank your website in search results.
Tips to Optimise Website for Mobile First
Provide accessible navigation
Lazy Load Images
Properly optimise your images
Serve Images in Next Gen Formats
Minify & Compress CSS & JavaScript
Remove Render Blocking Adverts
Reduce Javascript on the Page
Defer unused asset loading
Unfortunately, unless you know how to write your own css and HMTL then you would likely need to either hire a web developer to follow Google's mobile-first indexing guidelines and create a bespoke blog for you or head over to a digital marketplace that sells WordPress themes and buy yourself an SEO optimised theme for your blog.
3. Use Long Tail Keywords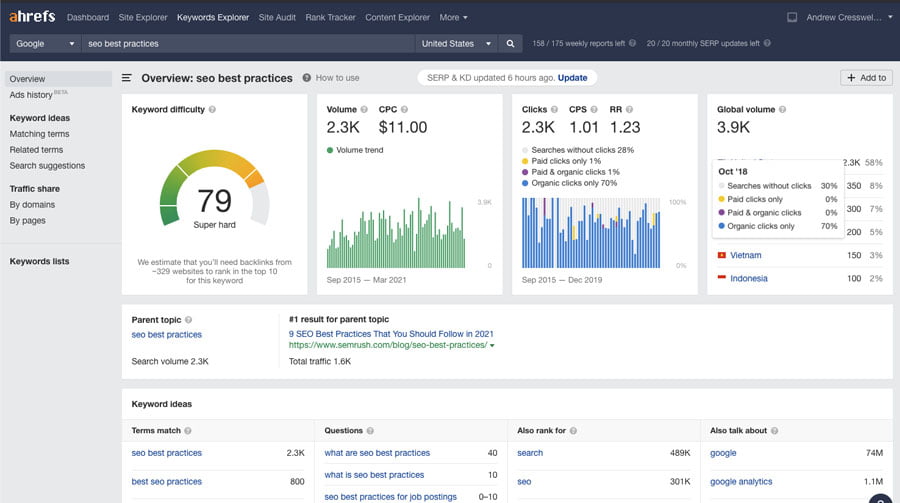 Low competition, high volume long-tail keywords are the bread and butter of on-page SEO optimisation strategies. They should be your core focus when first trying to build the domain authority of your webpage and the page authority of your blog articles.
If you are in a competitive niche, it can be hard to find lucrative long-tail keywords that are easy to rank for and drive a tonne of traffic to your website, but you can easily hunt down hidden keywords with the right SEO tools target.
5 of the Best Keyword Optimisation Tools
Google Keyword Planner
Google Search Console & Google Analytics (Free) Google Search Console & Google Analytics provides free insights into keywords your website is already ranking for in search results and should be the core of your strategy
Ahrefs (Free & Paid) Ahref's is my go-to tool for keyword research and finding high volume keywords to target. It also has one of the biggest databases of backlinks and robust webmaster tools for verified websites.
BuzzSumo (Trial & Paid) I love the content explorer by BuzzSumo and its ability to automatically create keyword clouds full of relevant, LSI keywords that are related to the keyword you are searching.
Moz (Trial & Paid) Moz is another service like Ahrefs and provides very similar SEO optimisation tools with slight differences. Moz maintains its own database of backlinks much link its a competitor.
Ahref's, Moz and BuzzSumo are all premium SEO tools that will compliment any on-page SEO efforts but, each of these is worth every penny. If I had to choose between them all, I would subscribe to Aref's service if I only had the budget for a single service.
4. Create Engaging Meta title and Meta description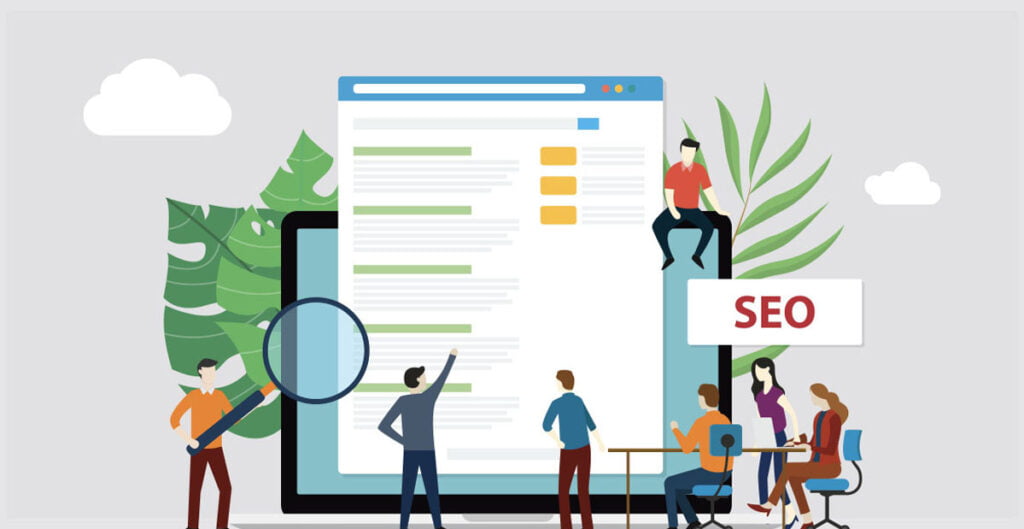 Your websites metadata is an important factor of search optimisation. Your meta title is used by Google to determine the keywords you are targeting. While not used to impact your search rankings directly, the meta description plays a huge part in generating clicks and converting organic traffic.
Your meta title should be catchy and include relevant keywords you're targeting without stuffing them in or having a meta title that is too long. There are a few rules you can follow to create better SEO titles and descriptions.
Write the Perfect SEO Meta Title & Meta Description
Keep meta titles short and under 60 characters
Google Truncates the meta description between 155 – 160 characters
Include Power Words to Grab Users Attention
Including numbers has been shown to increase CTR
Include keywords in both the meta title and meta description.
If you're running your own WordPress website, you can install one of several free WordPress SEO plugins such as Yoast SEO or Rank Math to take control of your websites on-page SEO and optimise every aspect.
5. Keep URLs shorts and readable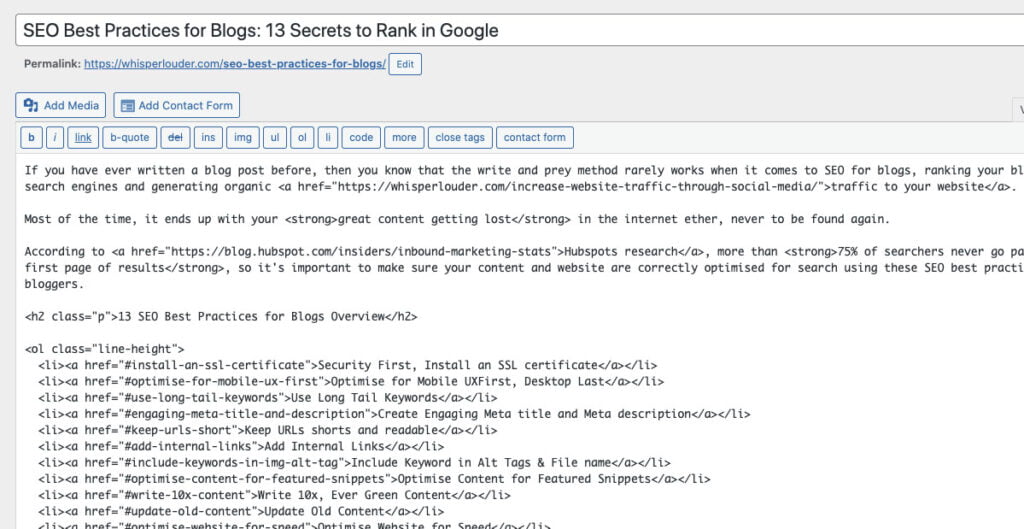 Keeping your permalinks or URLs short not only helps your readers understand the topic easier but it plays a role in where your page ranks overall.
Don't get me wrong, stuffing URLs full of keywords does not have the same effect it used to have, but carefully crafting your page's title to slip a keyword or two will help the page rank for that term easier.
6. Make Internal Linking Routine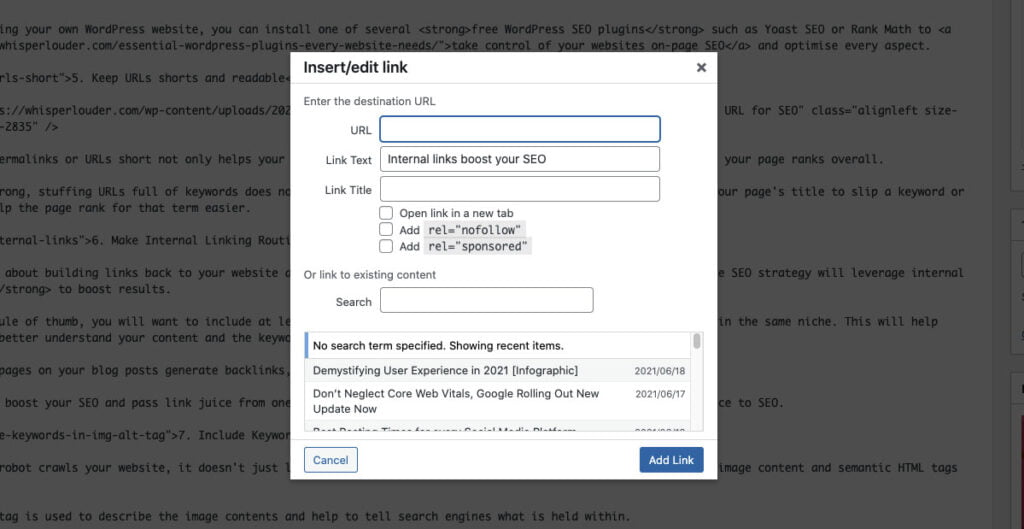 SEO is not all about building links back to your website and shouting about your business. In fact, a solid on-page SEO strategy will leverage internal links for SEO to boost results.
As a general rule of thumb, you will want to include at least 3 internal links on each page that link to relevant content in the same niche. This will help Google robots better understand your content and the keywords and category targeted.
Internal links boost your SEO and pass link juice from one page on your site to another—internal linking in the secret sauce to SEO.
7. Include Keyword in Alt Tags & File name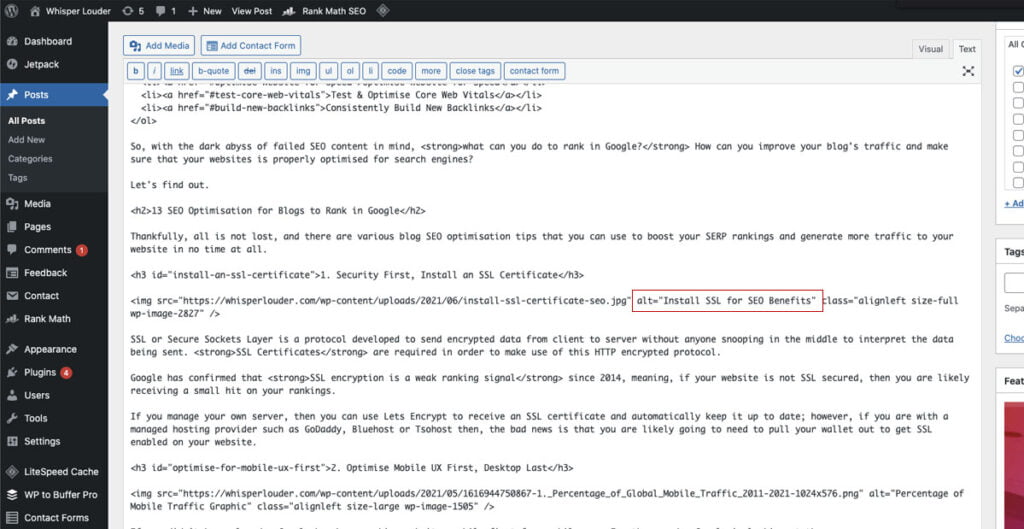 When a Google robot crawls your website, it doesn't just look at the typography on the page. Crawlers also looking at the image content and semantic HTML tags used.
The image alt tag describes the image contents and helps to tell search engines what is held within.
8. Optimise Content for Featured Snippets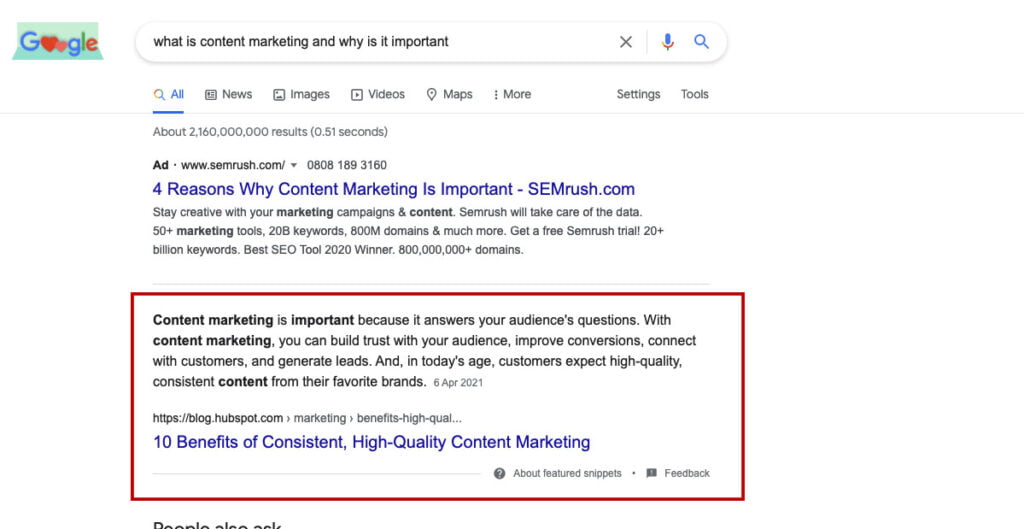 Featured snippets are a new feature introduced by Google in 2014 that shows a prominent excerpt related to the user search above the first result. These new "rank 0" results are designed to give users answers to their questions in a minimal amount of time.
You can optimise your on-page SEO and websites blog content for Featured Snippets by integrating Schema Markup into your HTML.
9. Write 10x, Ever Green Content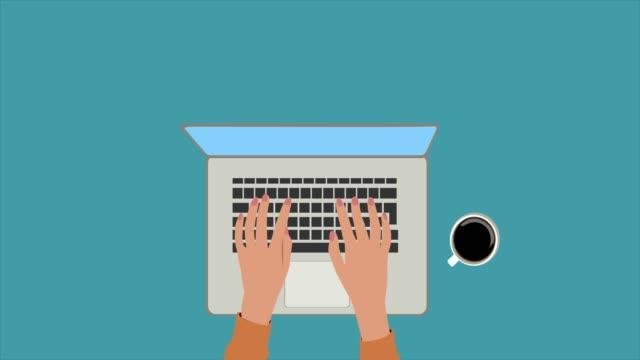 10x, evergreen content satisfies that old mantra echoed by content marketers and expert SEO's all around the globe; Content is king.
The average word count for a blog post on the internet rose 42% between 2014 and 2018 from 800 words to 1,151 words marking a trend that has continued into 2021.
According to HubSpot, a leading source of statistics on SEO and social media found that to maximise reach and influence search. The recommended word count for a blog SEO in 2021 is between 2100 and 2400 words.
10. Update Old Content
That killer piece of pillar content you wrote a few years ago is not immune to failing search ranks. Google loves people who post fresh content on their blogs regularly but, that's not the only thing they love – it doesn't end there.
Google also loves people who update old blog content, keeping it fresh and relevant to today's searches.
How to Update Old Blog Content
Conduct new keyword research for fresh keywords
Add any new, relevant information on the topic
Integrate keyword research
Add more media such as images or videos
If you find that content is outdated, cannot be easily updated and is not fit for repurposing then sometimes it's better to delete it rather than it taking up crawl quota.
11. Optimise Website for Speed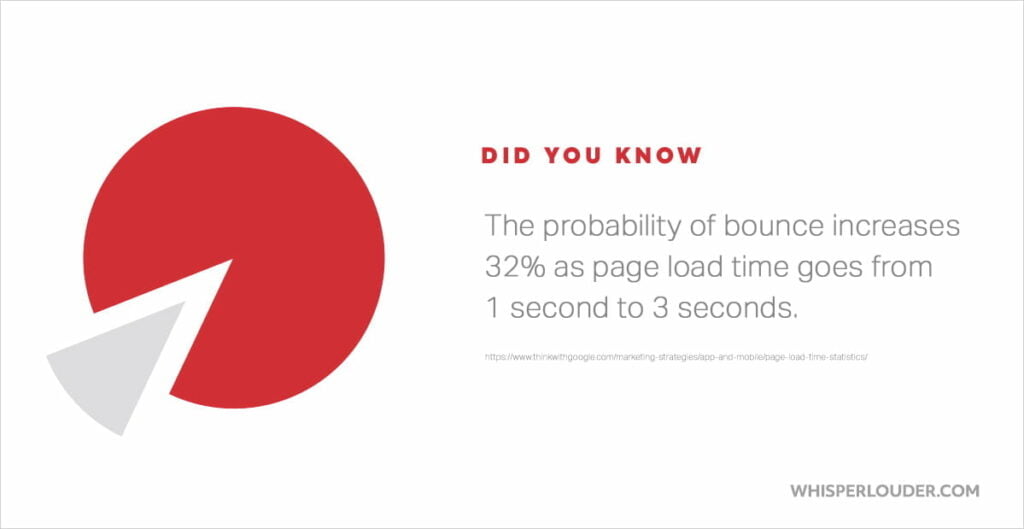 Improving your websites load speed is a viable on-page SEO strategy. WebsiteBuilderExpert found that 1 in 4 users will leave a website if it takes more than 4 seconds to load, with 46% of people never returning to the website again.
Site speed is considered an SEO best practice for blogs and is critical not only to the user experience of your website and your Core Web Vitals (more on that shortly) but also for your organic search ranks.
If you are running a WordPress blog, all you will need to do is install a caching plugin for your Blog, which will automatically handle the optimisation of all of your assets, including minifying and compress Javascript, CSS, HTML and in some cases – images as well.
12. Test & Optimise Core Web Vitals
Core Web Vitals are slowly being rolled out as I type this, meaning the page experience provided by your website is a ranking factor.
Core Web Vitals are a set of user-focused metrics developed by Google to measure the page experience of your website's pages.
What Metrics do Core Web Vitals Measure?
Cumulative Layout Shift (CLS)
First Input Delay (FID)
Largest Contentful Paint (LCP)
If you have not done it yet, you can test your Core Web Vitals by heading over to the Pagespeed Insights Tool and insert your URL to test how your website fares.
Google will continue to roll out this core update through summer 2021, so, don't neglect your websites Core Web Vitals and test your landing page before it is too late.
13. Consistently Build New Backlinks
Link building is considered an off-page SEO strategy and is still highly relevant in 2021 as it was in the 90s although, Google has become much smarter since the early days and can easily spot spammy backlinks a mile away.
Natural link building techniques and methods should be at the core of your website's strategy for search optimisation and domination.
Building one or two links will help with your local SEO, but in the long term, if you fail to attract new backlinks continually, Google will lose faith in your business and start ranking your content lower.
You see, ultimately – SEO is a game of trust and you need to consistently be earning more trust than those around you.
For those of you at the back
Search engine optimisation (SEO) takes huge amounts of patience. Even when using SEO best practices for bloggers, it can sometimes take months to get your website and its blog content ranking in the search engine results but, with the right on-page optimisation, the scale can be tipped in your favour.
Next time you write a blog post, remember these SEO optimisation tips for bloggers and work to integrate all of these key points to see higher ranks in SERPs.